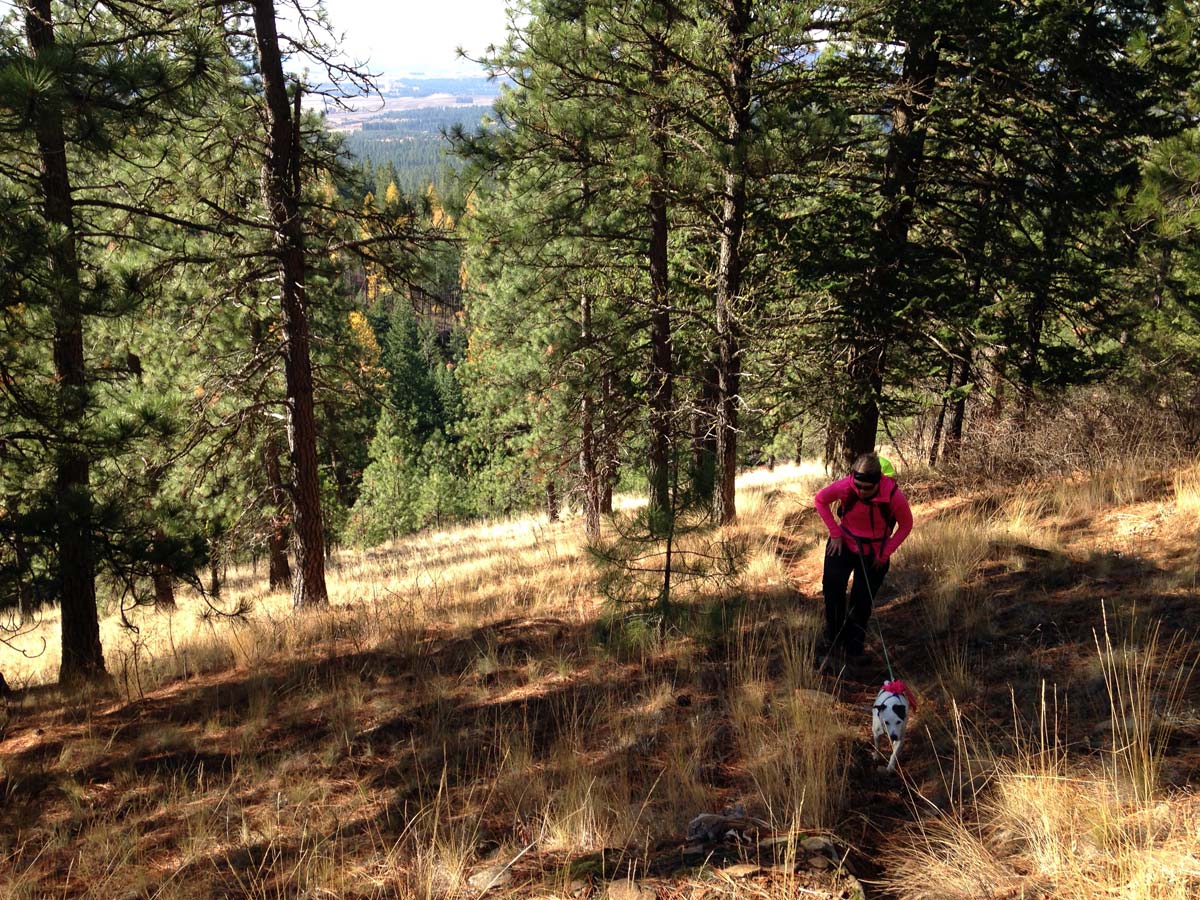 Mica Peak's current trail system is comprised of logging roads and poor quality, often steep user-created trails. A trail planning project for the county conservation area and DNR property is currently underway that will layout a sustainable, multiple-use trail system for the future.
Land Ownership
A majority (1500 acres approx) of Mica Peak's West flank is public land. If beginning hiking from the Belmont trailhead you will likely remain on public land until reaching 'Windy Point' on the Radar Road at 4800′. A map is posted at this trailhead.
If continuing to the summit of the peak it is recommended to stay on the road, and a recreation access permit from IEPCO may be needed. Permit fees range from $40 annually to $10 daily. Purchase locations and further details can be found on IEPCO's website. The buildings and antennas at the summit are private property, please respect signage and barriers.
Mica Peak can also be accessed on public land from the Northeast via Liberty Lake Regional Park. Trails reach the 4800′ level before crossing into IEPCO land near the summit, again an access permit is required. Logging companies and various private land flanks the other sides of the peak. Respect private property.
Hiking from Belmont Trailhead
A trail map is posted at this trailhead. When leaving the parking lot on the gravel road, pass around the gate and follow the signs to the left. Alternatively you may go straight on this road into the public DNR property, but that route will be discussed later.
Hikes can be planned for a couple hours up to an all day excursion. If planning to make the summit expect 9-10 miles of hiking and 2500′ of elevation gain. Various viewpoints on ridge lines also make good destinations and cut the mileage down. No matter the hike you choose, plan on at least 2 miles round trip.
The first mile of hiking follows a well established dirt road through a logging operation on private property. Mileage markers every tenth of a mile mark the route, stay on the main road. Eventually after gaining 440′ the road enters the conservation area at 3135′ and flattens out. The trail markers stop here, continue to follow the road another .75 mile, where several roads and trails fork off and ascend the mountain. If staying on the road, it will switchback several times as it climbs the West face. Most user trails go steeply upward and are often deeply rutted by previous ORV use and subsequent erosion.
Stay tuned.. More details coming soon!
Hiking from Liberty Lake Regional Park
The route to Mica Peak from Liberty Lake Regional Park begins on the South side of the campground area. If not camping, you must park in the main parking lot and pay a small fee or park outside completely and walk in for free. During the winter months it is free to park inside in the main lot.
Coming later this year!